About Us
Killermont Polo Club is a Indian takeaway in Glasgow. Why don't you try our Diet Irn Bru or Naan?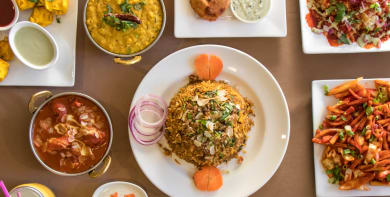 Reviews
399 reviews
laura
"food was the best I've eating In a long time worth the wait"
03/06/2020
Gillian
"Speedy delivery, food was delicios"
02/06/2020
Catriona
"Food as delicious and arrived piping hot would def order again Many thanks to pleasant delivery staff"
02/06/2020
Carole
"Brilliant curry"
01/06/2020
Menu
Burgandy Redfort Chicken
A royal dish achieved using port, cajun spices & tandoori spices, a must for a connoisseur
£8.50
Burgandy Redfort Vegetable
A royal dish achieved using port, cajun spices & tandoori spices, a must for a connoisseur
£8.50
Burgandy Redfort Paneer
A royal dish achieved using port, cajun spices & tandoori spices, a must for a connoisseur
£8.50
Burgandy Redfort Lamb
A royal dish achieved using port, cajun spices & tandoori spices, a must for a connoisseur
£9.50
Burgandy Redfort Prawn
A royal dish achieved using port, cajun spices & tandoori spices, a must for a connoisseur
£9.50
Burgandy Redfort King Prawn
A royal dish achieved using port, cajun spices & tandoori spices, a must for a connoisseur
£12.95
Laziz Chicken
Exquisite punjabi country foyre of chicken tikka, in a spicy garlic masala with ginger, onions & tomatoes with a tempering of crushed coriander seeds & crispy red hot chillies
£8.50
Laziz Vegetable
Exquisite punjabi country foyre of chicken tikka, in a spicy garlic masala with ginger, onions & tomatoes with a tempering of crushed coriander seeds & crispy red hot chillies
£8.50
Laziz Paneer
Exquisite punjabi country foyre of chicken tikka, in a spicy garlic masala with ginger, onions & tomatoes with a tempering of crushed coriander seeds & crispy red hot chillies
£8.50
Laziz Lamb
Exquisite punjabi country foyre of chicken tikka, in a spicy garlic masala with ginger, onions & tomatoes with a tempering of crushed coriander seeds & crispy red hot chillies
£9.50
Laziz Prawn
Exquisite punjabi country foyre of chicken tikka, in a spicy garlic masala with ginger, onions & tomatoes with a tempering of crushed coriander seeds & crispy red hot chillies
£9.50
Laziz King Prawn
Exquisite punjabi country foyre of chicken tikka, in a spicy garlic masala with ginger, onions & tomatoes with a tempering of crushed coriander seeds & crispy red hot chillies
£12.95
Massalum Okra Chicken
A mouth watering marinade of punjabi spices, garlic, ginger, cumin seeds, okra & onions simmered in a homemade yoghurt sauce
£8.50
Massalum Okra Vegetable
A mouth watering marinade of punjabi spices, garlic, ginger, cumin seeds, okra & onions simmered in a homemade yoghurt sauce
£8.50
Massalum Okra Paneer
A mouth watering marinade of punjabi spices, garlic, ginger, cumin seeds, okra & onions simmered in a homemade yoghurt sauce
£8.50
Massalum Okra Lamb
A mouth watering marinade of punjabi spices, garlic, ginger, cumin seeds, okra & onions simmered in a homemade yoghurt sauce
£9.50
Massalum Okra Prawn
A mouth watering marinade of punjabi spices, garlic, ginger, cumin seeds, okra & onions simmered in a homemade yoghurt sauce
£9.50
Massalum Okra King Prawn
A mouth watering marinade of punjabi spices, garlic, ginger, cumin seeds, okra & onions simmered in a homemade yoghurt sauce
£12.95
Akbari Chicken
Combination of chicken tikka & lamb mince cooked in sunflower seeds, fresh coriander, minced green chillies & chef's special spices
£8.50
Akbari Vegetable
Combination of chicken tikka & lamb mince cooked in sunflower seeds, fresh coriander, minced green chillies & chef's special spices
£8.50
Akbari Paneer
Combination of chicken tikka & lamb mince cooked in sunflower seeds, fresh coriander, minced green chillies & chef's special spices
£8.50
Akbari Lamb
Combination of chicken tikka & lamb mince cooked in sunflower seeds, fresh coriander, minced green chillies & chef's special spices
£9.50
Akbari Prawn
Combination of chicken tikka & lamb mince cooked in sunflower seeds, fresh coriander, minced green chillies & chef's special spices
£9.50
Akbari King Prawn
Combination of chicken tikka & lamb mince cooked in sunflower seeds, fresh coriander, minced green chillies & chef's special spices
£12.95
Chilli Ginger with Spinach Leaf Chicken
A combination of chicken & spinach is indeed a subtle blend of flavours, for this reason minimum spicing is used so as not to mask the intrinsic flavour of the ingredients
£8.50
Chilli Ginger with Spinach Leaf Vegetable
A combination of chicken & spinach is indeed a subtle blend of flavours, for this reason minimum spicing is used so as not to mask the intrinsic flavour of the ingredients
£8.50
Chilli Ginger with Spinach Leaf Paneer
A combination of chicken & spinach is indeed a subtle blend of flavours, for this reason minimum spicing is used so as not to mask the intrinsic flavour of the ingredients
£8.50
Chilli Ginger with Spinach Leaf Lamb
A combination of chicken & spinach is indeed a subtle blend of flavours, for this reason minimum spicing is used so as not to mask the intrinsic flavour of the ingredients
£9.50
Chilli Ginger with Spinach Leaf Prawn
A combination of chicken & spinach is indeed a subtle blend of flavours, for this reason minimum spicing is used so as not to mask the intrinsic flavour of the ingredients
£9.50
Chilli Ginger with Spinach Leaf King Prawn
A combination of chicken & spinach is indeed a subtle blend of flavours, for this reason minimum spicing is used so as not to mask the intrinsic flavour of the ingredients
£12.95
Desi Chicken
A traditional dish made using authentic herbs & spices
£8.50
Desi Vegetable
A traditional dish made using authentic herbs & spices
£8.50
Desi Paneer
A traditional dish made using authentic herbs & spices
£8.50
Desi Lamb
A traditional dish made using authentic herbs & spices
£9.50
Desi Prawn
A traditional dish made using authentic herbs & spices
£9.50
Desi King Prawn
A traditional dish made using authentic herbs & spices
£12.95
Pudina Gosht Chicken
Lamb cooked in spinach & fresh mint giving a distinctive taste & flavour
£8.50
Pudina Gosht Vegetable
Lamb cooked in spinach & fresh mint giving a distinctive taste & flavour
£8.50
Pudina Gosht Paneer
Lamb cooked in spinach & fresh mint giving a distinctive taste & flavour
£8.50
Pudina Gosht Lamb
Lamb cooked in spinach & fresh mint giving a distinctive taste & flavour
£9.50
Pudina Gosht Prawn
Lamb cooked in spinach & fresh mint giving a distinctive taste & flavour
£9.50
Pudina Gosht King Prawn
Lamb cooked in spinach & fresh mint giving a distinctive taste & flavour
£12.95
Methi Gosht Chicken
Lamb slow cooked with fenugreek & spinach. A home favorite
£8.50
Methi Gosht Vegetable
Lamb slow cooked with fenugreek & spinach. A home favorite
£8.50
Methi Gosht Paneer
Lamb slow cooked with fenugreek & spinach. A home favorite
£8.50
Methi Gosht Lamb
Lamb slow cooked with fenugreek & spinach. A home favorite
£9.50
Methi Gosht Prawn
Lamb slow cooked with fenugreek & spinach. A home favorite
£9.50
Methi Gosht King Prawn
Lamb slow cooked with fenugreek & spinach. A home favorite
£12.95
Sweet & Sour Chicken Puri
£3.95
Traditional Curry Chicken
The original classic curry
£6.95
Traditional Curry Vegetable
The original classic curry
£6.95
Traditional Curry Paneer
The original classic curry
£6.95
Traditional Curry Lamb
The original classic curry
£7.95
Traditional Curry Prawn
The original classic curry
£7.95
Traditional Curry King Prawn
The original classic curry
£11.95
Bhuna Chicken
A rich, flavoursome condensed sauce with ginger, garlic & tomatoes
£6.95
Bhuna Vegetable
A rich, flavoursome condensed sauce with ginger, garlic & tomatoes
£6.95
Bhuna Paneer
A rich, flavoursome condensed sauce with ginger, garlic & tomatoes
£6.95
Bhuna Lamb
A rich, flavoursome condensed sauce with ginger, garlic & tomatoes
£7.95
Bhuna Prawn
A rich, flavoursome condensed sauce with ginger, garlic & tomatoes
£7.95
Bhuna King Prawn
A rich, flavoursome condensed sauce with ginger, garlic & tomatoes
£11.95
Dopiaza Chicken
With double helping of onions
£6.95
Dopiaza Vegetable
With double helping of onions
£6.95
Dopiaza Paneer
With double helping of onions
£6.95
Dopiaza Lamb
With double helping of onions
£7.95
Dopiaza Prawn
With double helping of onions
£7.95
Dopiaza King Prawn
With double helping of onions
£11.95
Dansak Chicken
Cooked with homemade lentil sauce
£6.95
Dansak Vegetable
Cooked with homemade lentil sauce
£6.95
Dansak Paneer
Cooked with homemade lentil sauce
£6.95
Dansak Lamb
Cooked with homemade lentil sauce
£7.95
Dansak Prawn
Cooked with homemade lentil sauce
£7.95
Dansak King Prawn
Cooked with homemade lentil sauce
£11.95
Patia Chicken
A tangy sweet & sour sauce
£6.95
Patia Vegetable
A tangy sweet & sour sauce
£6.95
Patia Paneer
A tangy sweet & sour sauce
£6.95
Patia Lamb
A tangy sweet & sour sauce
£7.95
Patia Prawn
A tangy sweet & sour sauce
£7.95
Patia King Prawn
A tangy sweet & sour sauce
£11.95
Punjabi Masala Chicken
A traditional punjabi sauce with peppers
£6.95
Punjabi Masala Vegetable
A traditional punjabi sauce with peppers
£6.95
Punjabi Masala Paneer
A traditional punjabi sauce with peppers
£6.95
Punjabi Masala Lamb
A traditional punjabi sauce with peppers
£7.95
Punjabi Masala Prawn
A traditional punjabi sauce with peppers
£7.95
Punjabi Masala King Prawn
A traditional punjabi sauce with peppers
£11.95
Madras Chicken
A classic hot dish
£6.95
Madras Vegetable
A classic hot dish
£6.95
Madras Paneer
A classic hot dish
£6.95
Madras Lamb
A classic hot dish
£7.95
Madras Prawn
A classic hot dish
£7.95
Madras King Prawn
A classic hot dish
£11.95
Tandoori King Prawns Main
£12.95
Shashlik
Succulent chicken pieces of bbq'd with onions, capsicums & mushrooms
£9.95
Tandoori Chicken Main
Chicken on the bone given the tandoori treatment
£10.95
Paneer Ka Khaas Tikka
Cubes of paneer imbued with shahi jeera, wrapped in a black peppercorn & raw mango enriched batter & glazed golden in the tandoor
£8.95
Tandoori Mixed Platter
A melody of tandoori chicken, chicken tikka, lamb tikka, king prawn, chicken chaat & naan bread
£13.95
Aloo Tikki
Spicy potato cakes
£3.95
Mixed Vegetable Curry
A fusion mixed vegetable simmered in our traditional curry sauce
£6.95
Mushroom Bhaji
Mouth watering mushrooms sauteed in a flavoursome curry sauce
£6.95
Paneer Saag
Homemade cottage cheese, cooked with spinach & cream with fenugreek
£6.95
Tarka Daal
Lentils, fried onions & tomatoes cooked together & seasoned with red chilli
£6.95
Aloo Methi
Diced potato, cooked with spinach, coriander & fenugreek
£6.95
Aloo Chana Kumba
Potato, chickpeas & mushrooms cooked in punjabi spices & flavoured with fenugreek
£6.95
Bhindi Dopiaza
Okra cooked with red onions & tossed with fresh ginger & garlic
£6.95
Bombay Potato
Potatoes with Chef's own special sauce
£6.95
Chana Masala
Spicy traditional chickpeas
£6.95
Shahi Paneer
A royal dish made using Indian cottage cheese
£6.95
Maki Palak
Prepared with baby corn & spinach
£6.95
Sirloin Steak
Served with pepper sauce
£10.95
Chasni Chicken
A creamy sweet & sour sauce with a touch of coconut cream
£7.95
Chasni Vegetable
A creamy sweet & sour sauce with a touch of coconut cream
£7.95
Chasni Paneer
A creamy sweet & sour sauce with a touch of coconut cream
£7.95
Chasni Lamb
A creamy sweet & sour sauce with a touch of coconut cream
£8.95
Chasni Prawn
A creamy sweet & sour sauce with a touch of coconut cream
£8.95
Chasni King Prawn
A creamy sweet & sour sauce with a touch of coconut cream
£12.95
Jaipuri Chicken
A potent fusion of peppers, mushrooms, onions, ginger & garlic in exotic jaipur spices
£7.95
Jaipuri Vegetable
A potent fusion of peppers, mushrooms, onions, ginger & garlic in exotic jaipur spices
£7.95
Jaipuri Paneer
A potent fusion of peppers, mushrooms, onions, ginger & garlic in exotic jaipur spices
£7.95
Jaipuri Lamb
A potent fusion of peppers, mushrooms, onions, ginger & garlic in exotic jaipur spices
£8.95
Jaipuri Prawn
A potent fusion of peppers, mushrooms, onions, ginger & garlic in exotic jaipur spices
£8.95
Jaipuri King Prawn
A potent fusion of peppers, mushrooms, onions, ginger & garlic in exotic jaipur spices
£12.95
Jalfrezi Chicken
Tomato base sauce with peppers, onions & kalonji
£7.95
Jalfrezi Vegetable
Tomato base sauce with peppers, onions & kalonji
£7.95
Jalfrezi Paneer
Tomato base sauce with peppers, onions & kalonji
£7.95
Jalfrezi Lamb
Tomato base sauce with peppers, onions & kalonji
£8.95
Jalfrezi Prawn
Tomato base sauce with peppers, onions & kalonji
£8.95
Jalfrezi King Prawn
Tomato base sauce with peppers, onions & kalonji
£12.95
Masala Chicken
A mouth watering marinade of exotic punjabi spices, garlic, ginger, cumin, capsicum & onions
£7.95
Masala Vegetable
A mouth watering marinade of exotic punjabi spices, garlic, ginger, cumin, capsicum & onions
£7.95
Masala Paneer
A mouth watering marinade of exotic punjabi spices, garlic, ginger, cumin, capsicum & onions
£7.95
Masala Lamb
A mouth watering marinade of exotic punjabi spices, garlic, ginger, cumin, capsicum & onions
£8.95
Masala Prawn
A mouth watering marinade of exotic punjabi spices, garlic, ginger, cumin, capsicum & onions
£8.95
Masala King Prawn
A mouth watering marinade of exotic punjabi spices, garlic, ginger, cumin, capsicum & onions
£12.95
Karela Chicken
Prepared with tangy sauce, green chillies, black pepper & coconut cream
£7.95
Karela Vegetable
Prepared with tangy sauce, green chillies, black pepper & coconut cream
£7.95
Karela Paneer
Prepared with tangy sauce, green chillies, black pepper & coconut cream
£7.95
Karela Lamb
Prepared with tangy sauce, green chillies, black pepper & coconut cream
£8.95
Karela Prawn
Prepared with tangy sauce, green chillies, black pepper & coconut cream
£8.95
Karela King Prawn
Prepared with tangy sauce, green chillies, black pepper & coconut cream
£12.95
South Indian Garlic Chilli Chicken
Hot & spicy with a garlic kick
£7.95
South Indian Garlic Chilli Vegetable
Hot & spicy with a garlic kick
£7.95
South Indian Garlic Chilli Paneer
Hot & spicy with a garlic kick
£7.95
South Indian Garlic Chilli Lamb
Hot & spicy with a garlic kick
£8.95
South Indian Garlic Chilli Prawn
Hot & spicy with a garlic kick
£8.95
South Indian Garlic Chilli King Prawn
Hot & spicy with a garlic kick
£12.95
Jalandhri Chicken
A simmering fusion of ginger, garlic, onions, peppers, chillies, coconut cream & fresh herbs in exotic spices
£7.95
Jalandhri Vegetable
A simmering fusion of ginger, garlic, onions, peppers, chillies, coconut cream & fresh herbs in exotic spices
£7.95
Jalandhri Paneer
A simmering fusion of ginger, garlic, onions, peppers, chillies, coconut cream & fresh herbs in exotic spices
£7.95
Jalandhri Lamb
A simmering fusion of ginger, garlic, onions, peppers, chillies, coconut cream & fresh herbs in exotic spices
£8.95
Jalandhri Prawn
A simmering fusion of ginger, garlic, onions, peppers, chillies, coconut cream & fresh herbs in exotic spices
£8.95
Jalandhri King Prawn
A simmering fusion of ginger, garlic, onions, peppers, chillies, coconut cream & fresh herbs in exotic spices
£12.95
Malaidar Chicken
Spinach puree simmered with lashings of green chilli, garlic, ginger, fresh cream & fresh coriander
£7.95
Malaidar Vegetable
Spinach puree simmered with lashings of green chilli, garlic, ginger, fresh cream & fresh coriander
£7.95
Malaidar Paneer
Spinach puree simmered with lashings of green chilli, garlic, ginger, fresh cream & fresh coriander
£7.95
Malaidar Lamb
Spinach puree simmered with lashings of green chilli, garlic, ginger, fresh cream & fresh coriander
£8.95
Malaidar Prawn
Spinach puree simmered with lashings of green chilli, garlic, ginger, fresh cream & fresh coriander
£8.95
Malaidar King Prawn
Spinach puree simmered with lashings of green chilli, garlic, ginger, fresh cream & fresh coriander
£12.95
Rogan Josh Chicken
A creamy mild dish with blend onion & tomatoes
£7.95
Rogan Josh Vegetable
A creamy mild dish with blend onion & tomatoes
£7.95
Rogan Josh Paneer
A creamy mild dish with blend onion & tomatoes
£7.50
Rogan Josh Lamb
A creamy mild dish with blend onion & tomatoes
£8.95
Rogan Josh Prawn
A creamy mild dish with blend onion & tomatoes
£8.95
Rogan Josh King Prawn
A creamy mild dish with blend onion & tomatoes
£12.95
Karahi Chicken
A bhuna sauce with peppers, onions & hint of punjabi spices. A dry dish
£7.95
Karahi Vegetable
A bhuna sauce with peppers, onions & hint of punjabi spices. A dry dish
£7.95
Karahi Paneer
A bhuna sauce with peppers, onions & hint of punjabi spices. A dry dish
£7.95
Karahi Lamb
A bhuna sauce with peppers, onions & hint of punjabi spices. A dry dish
£8.95
Karahi Prawn
A bhuna sauce with peppers, onions & hint of punjabi spices. A dry dish
£8.95
Karahi King Prawn
A bhuna sauce with peppers, onions & hint of punjabi spices. A dry dish
£12.95
Pasanda Chicken
A mild dish with almond powder & almond flakes
£7.95
Pasanda Vegetable
A mild dish with almond powder & almond flakes
£7.95
Pasanda Paneer
A mild dish with almond powder & almond flakes
£7.95
Pasanda Lamb
A mild dish with almond powder & almond flakes
£8.95
Pasanda Prawn
A mild dish with almond powder & almond flakes
£8.95
Pasanda King Prawn
A mild dish with almond powder & almond flakes
£12.95
Parsi Specialty Chicken
Cooked with lentils & sweet & sour sauce
£7.95
Parsi Specialty Vegetable
Cooked with lentils & sweet & sour sauce
£7.95
Parsi Specialty Paneer
Cooked with lentils & sweet & sour sauce
£7.95
Parsi Specialty Lamb
Cooked with lentils & sweet & sour sauce
£8.95
Parsi Specialty Prawn
Cooked with lentils & sweet & sour sauce
£8.95
Parsi Specialty King Prawn
Cooked with lentils & sweet & sour sauce
£12.95
Balti Butter Masala Chicken
A creamy tomato base, cooked with a touch almond powder, fresh cream, spring onion, ginger, garlic & balti spices
£7.95
Balti Butter Masala Vegetable
A creamy tomato base, cooked with a touch almond powder, fresh cream, spring onion, ginger, garlic & balti spices
£7.95
Balti Butter Masala Paneer
A creamy tomato base, cooked with a touch almond powder, fresh cream, spring onion, ginger, garlic & balti spices
£7.95
Balti Butter Masala Lamb
A creamy tomato base, cooked with a touch almond powder, fresh cream, spring onion, ginger, garlic & balti spices
£8.95
Balti Butter Masala Prawn
A creamy tomato base, cooked with a touch almond powder, fresh cream, spring onion, ginger, garlic & balti spices
£8.95
Balti Butter Masala King Prawn
A creamy tomato base, cooked with a touch almond powder, fresh cream, spring onion, ginger, garlic & balti spices
£12.95
Mixed Pakora
Vegetable, chicken, mushroom, aloo
£4.50
Chef's Platter for 2
Mixed pakora, chicken chaat & vegetable samosa
£7.95
Meal Deal for 2
Mix pakora
Two poppadoms, spiced onions
Choice of Any Two Dishes from the Menu*
Boiled OR Fried Rice and Naan Bread
*Excludes Tandoori Cuisine, biryani & Connoisseur dishes.
Lamb or Prawn £1.00 extra. King prawn £4.95 extra
£19.95
Meal Deal for 1
Vegetable pakora
Poppadom & spiced onions
Choice of Any One Dish from the Menu*
Boiled OR Fried Rice and Naan Bread
*Excludes Tandoori Cuisine, biryani & Connoisseur dishes.
Lamb or Prawn £1.00 extra. King prawn £4.95 extra
£11.95
Muglai Korma Chicken
The classic
£6.95
Muglai Korma Vegetable
The classic
£6.95
Muglai Korma Paneer
The classic
£6.95
Muglai Korma Lamb
The classic
£7.95
Muglai Korma Prawn
The classic
£7.95
Muglai Korma King Prawn
The classic
£11.95
Ceylonese Korma Chicken
Lashings of creamed coconut
£6.95
Ceylonese Korma Vegetable
Lashings of creamed coconut
£6.95
Ceylonese Korma Paneer
Lashings of creamed coconut
£6.95
Ceylonese Korma Lamb
Lashings of creamed coconut
£7.95
Ceylonese Korma Prawn
Lashings of creamed coconut
£7.95
Ceylonese Korma King Prawn
Lashings of creamed coconut
£11.95
Kashmiri Korma Chicken
Prepared with mixed fruit
£6.95
Kashmiri Korma Vegetable
Prepared with mixed fruit
£6.95
Kashmiri Korma Paneer
Prepared with mixed fruit
£6.95
Kashmiri Korma Lamb
Prepared with mixed fruit
£7.95
Kashmiri Korma Prawn
Prepared with mixed fruit
£7.95
Kashmiri Korma King Prawn
Prepared with mixed fruit
£11.95
Madras Korma Chicken
A special sauce combined with a mixture of pickles
£6.95
Madras Korma Vegetable
A special sauce combined with a mixture of pickles
£6.95
Madras Korma Paneer
A special sauce combined with a mixture of pickles
£6.95
Madras Korma Lamb
A special sauce combined with a mixture of pickles
£7.95
Madras Korma Prawn
A special sauce combined with a mixture of pickles
£7.95
Madras Korma King Prawn
A special sauce combined with a mixture of pickles
£11.95
Garlic Korma Chicken
House specialty
£6.95
Garlic Korma Vegetable
House specialty
£6.95
Garlic Korma Paneer
House specialty
£6.95
Garlic Korma Lamb
House specialty
£7.95
Garlic Korma Prawn
House specialty
£7.95
Garlic Korma King Prawn
House specialty
£11.95
Shakuti Korma Chicken
Korma with a kick added green chillies
£6.95
Shakuti Korma Vegetable
Korma with a kick added green chillies
£6.95
Shakuti Korma Paneer
Korma with a kick added green chillies
£6.95
Shakuti Korma Lamb
Korma with a kick added green chillies
£7.95
Shakuti Korma Prawn
Korma with a kick added green chillies
£7.95
Shakuti Korma King Prawn
Korma with a kick added green chillies
£11.95
Mint Chilli Murgh Starter
£4.50
Masala Lamb Chops Starter
£4.95
Tandoori King Prawn Starter
£7.95
Chicken Seekh Kebab Starter
£4.50
Mix Tikka Starter
Chicken tikka, seekh kebab (chicken), lamb tikka & chaat
£5.95
Kids Chicken Nuggets with Chips
£3.95
Kids Fish Fingers with Chips
£3.95
Kids Chicken Chasni Chips
£3.95
Kids Chicken Pakora with Chips
£3.95
Munchy Box
Chips, cheese, vegetable pakora, chicken pakora, mushroom pakora, chicken tikka, chicken chaat, aloo pakora, salad, pakora sauce & chilli sauce
£10.95
Pakora Party Food Chicken Breast
£17.95
Pakora Party Food Vegetable
£15.00
Pakora Party Food Mushroom
£15.00
Pakora Party Food Mixed (Vegetable, Chicken, Mushroom, Aloo)
£17.95
Old Favourites Party Food Traditional Curry
£22.95
Old Favourites Party Food Bhuna
£22.95
Old Favourites Party Food Dopiaza
£22.95
Old Favourites Party Food Dansak
£22.95
Old Favourites Party Food Patia
£22.95
Old Favourites Party Food Punjabi Masala
£22.95
Old Favourites Party Food Madras
£22.95
Old Favourites Party Food Korma
£22.95
House Specialities Party Food Chasni
£28.95
House Specialities Party Food Jaipuri
£28.95
House Specialities Party Food Jalfrezi
£28.95
House Specialities Party Food Masala
£28.95
House Specialities Party Food Karela
£28.95
House Specialities Party Food South Indian Garlic Chilli
£28.95
House Specialities Party Food Jalandhri
£28.95
House Specialities Party Food Malaidar
£28.95
House Specialities Party Food Rogan Josh
£28.95
House Specialities Party Food Karahi
£28.95
House Specialities Party Food Pasanda
£28.95
House Specialities Party Food Parsi Speciality
£28.95
House Specialities Party Food Balti Butter Masala
£28.95
Contact Us
Find Us
2022 Mary Hill Road, Glasgow, G200AB
We deliver to
G11, G12, G13, G14, G15, G20, G22, G23, G3, G4, G60, G61, G62, G64